STRONG GREENS: Your Questions Answered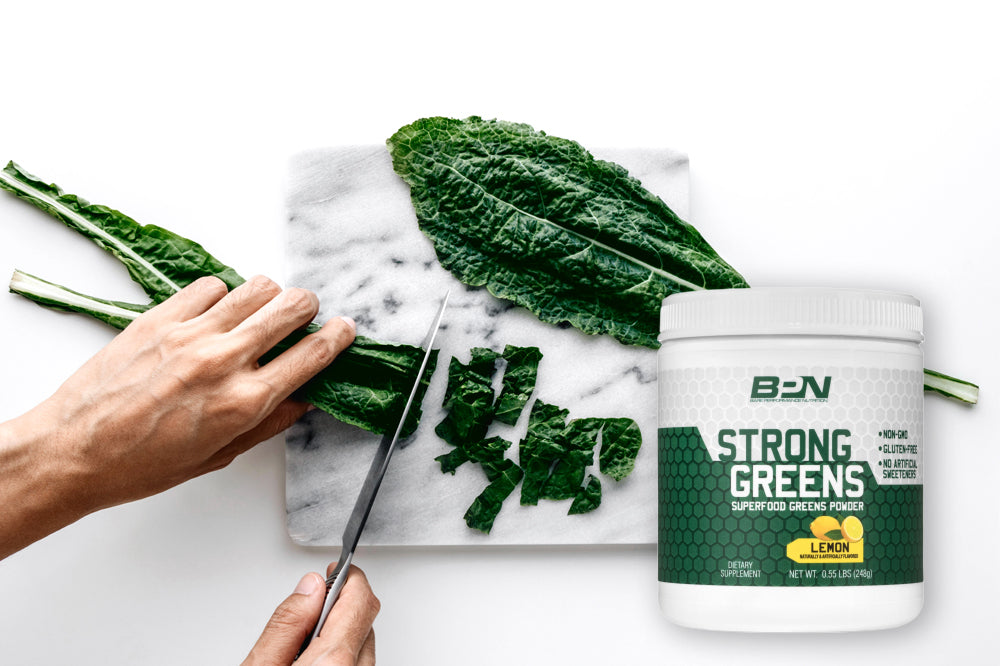 BPN Strong Greens is one of our best-selling products for a reason – the main reason being, it WORKS! It's no secret that most of us don't eat enough vegetables or get the amount of micronutrients that we should on a daily basis. That's where Strong Greens come in. It's our superfood greens supplement that takes care of all that and more – in just one scoop.
Strong Greens is the best greens supplement on the market – and that's because of the formula! It's formulated to improve the way you perform and feel by filling in the gaps in your diet. What's unique about this supplement, is that it is made and can benefit everyone – regardless of your training & nutrition goals. It's a nutrient powerhouse that carries you through the entire day. Here are some of the benefits of taking BPN Strong Greens:
-        Improved digestion
-        Reduced bloating
-        Boosted immune system
-        Increased natural energy & overall well-being
-        Improved health of hair, skin & nails
Let's breakdown every single ingredient that is a part of the powerhouse formula behind Strong Greens, so you can better understand what each ingredient does for your body: 
     

Organic Wheat Grass-

Wheat grass is naturally high in many vitamins and minerals that strengthen your immune system, detoxify the body, and improve overall health.

     

Organic Coconut Water Powder-

Coconut water is high in potassium (increased hydration throughout the body), and it helps to move the included ingredients throughout the bloodstream.

     

Beet Juice-

Beet juice is great for improving blood flow throughout the body and providing essential vitamins and minerals.

     

Organic Chlorella-

Chlorella promotes "good bacteria" in the gut and helps support improved digestion and stimulates the immune system.

     

Organic Turmeric-

Turmeric is a powerful antioxidant with the benefits of reducing inflammation. It's also antibacterial and has stomach smoothing effects.

     

Organic Ashwagandha-

Ashwagandha is an adaptogen that can modulate your response to stress or a changing environment. Adaptogens help the body cope with external stresses such as toxins in the environment and internal stresses.
 Now that you know the science behind each ingredient – let's get into some of the most frequently asked questions about BPN Strong Greens!
When should I take Strong Greens?
For optimal results, Strong Greens should be taken every single day. It doesn't matter when you take it – but most people prefer to take it first thing in the morning. It's a great way to kickstart your digestive system while providing you with natural energy that will carry you throughout your entire day.
Can Strong Greens replace my daily vegetables?
While Strong Greens has a powerhouse formula that is packed with micronutrients that are often found in vegetables, it never hurts to consume additional leafy greens & sources of vegetables throughout the day in addition to Strong Greens. The more greens in your diet, the better!
Will taking Strong Greens break my fast?
It depends what kind of fast you are on. There are calories in Strong Greens (10, to be exact) so if you are on a calorie-free fast, Strong Greens would break your fast. But if you are on a fast where you can consume liquids with calories – Strong Greens would not break your fast.
How does Strong Greens taste?
Like all superfood greens supplements, Strong Greens has a wheatgrass, earthy taste to it. Here at BPN we pride ourselves on top-notch, high-quality flavors – and the added lemon flavor to Strong Greens is what really separates it from the other greens powders on the market. It's refreshing and the best part is – no nose plugging is needed!
What do you take Strong Greens with?
We recommend mixing Strong Greens with 8-10 oz. of cold water for best results. A lot of Strong Greens lovers also add in the juice from a squeezed lemon to add extra flavor. We also recommend stacking Strong Greens with BPN's In-Focus – the flavor combination is amazing and your energy will be through the roof! Adding a scoop of Strong Greens to your protein shake, smoothie or juice is also an added bonus.
How long does it take to see the results from taking Strong Greens?
In order to feel the results and benefits from Strong Greens, it's imperative to take this supplement every single day. If you take it consistently on a daily basis, you will feel the results within days after your first scoop, if not right away!
Are you ready to feel the best you've ever felt? BPN offers a subscription service for the supplement, so a new bottle arrives on your doorstep every single month so you never miss a day! Order your first bottle of Strong Greens today!