Russel Orhii & Amanda Lawrence: IPF World Champions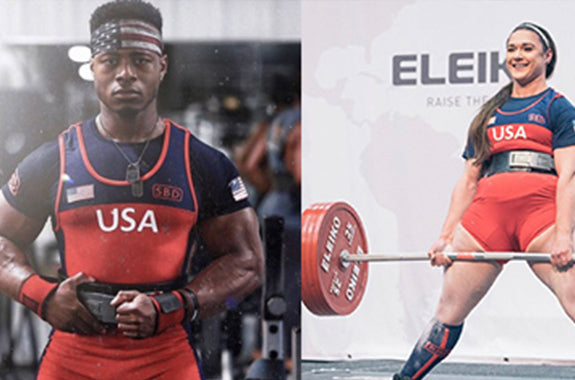 Team BPN is now made up of not one, but two powerlifting world champions!  The 2019 IPF World Classic Powerlifting Championship took place earlier this month and two of our BPN Athletes, Amanda Lawrence and Russel Orhii brought home the gold, and multiple world records.
Let's start with Amanda. She's a 22-year-old Minnesota-based powerlifter. Believe it or not, she's only been lifting competitively since 2016. She walked away from her very first IPF Worlds a champion, setting three world records along the way. 
This wasn't the first time she's pulled massive weight. Amanda has made her mark in the powerlifting community in such a short amount of time by lifting heavy, staying consistent and doing it with remarkable confidence. At the Arnold SBD
Grand Prix, her biggest meet to date, she finished in first place with 1314 pounds total at 83.6kg weight class.

When it came to worlds, we knew to expect massive lifts from Amanda. She set a world squat record with 536 pounds, a deadlift world record with 556 pounds, and she also set the world record for most weight lifted overall with 1,351 pounds.
Here are the final stats for her lifts at worlds:
WEIGHT CLASS:  84kg
Squat - 243kg/536lb WR
Bench - 117.5kg/259lb 
Deadlift - 252.5kg/556lb
Total - 613kg/1351lb WR
Now, onto Russ! He's a 24-year-old Texas-based powerlifter. He was more than ready to compete this year after a smooth 680-pound squat during a training session one week out from worlds, that he said he felt "low-key shocked at how easy it felt."
His last powerlifting meet was at Raw Nationals last year, where he (no surprise) finished in first place. Last year, he said that he was more focused on getting back to100-percent health. This year, his focus was to simply just get stronger than ever. It's safe to say that his approach worked.
"Overall lifting goals this year was just to stay healthy and build. Meets and numbers can be very circumstantial and I've finally come around to accepting that. Ideally, I would like to up all my numbers, but I really want to pull close to 800 pounds by the end of the year." 
At worlds, Russ set a squat world record with 690 pounds and a world record for weight lifted overall with 1,836 pounds.
Here are the final stats for his lifts at worlds:
WEIGHT CLASS: 83kg
Squat – 313kg/690lb WR
Bench – 195kg/429.9 lbs
Deadlift – 325kg/716.5 lbs
Total – 833kg/1836lbs WR
Congrats to both BPN Athletes. We're proud to have you on our team and we're excited to see what you both do next! #TeamBPN