Recovery starts here. Learn about Peak Sleep.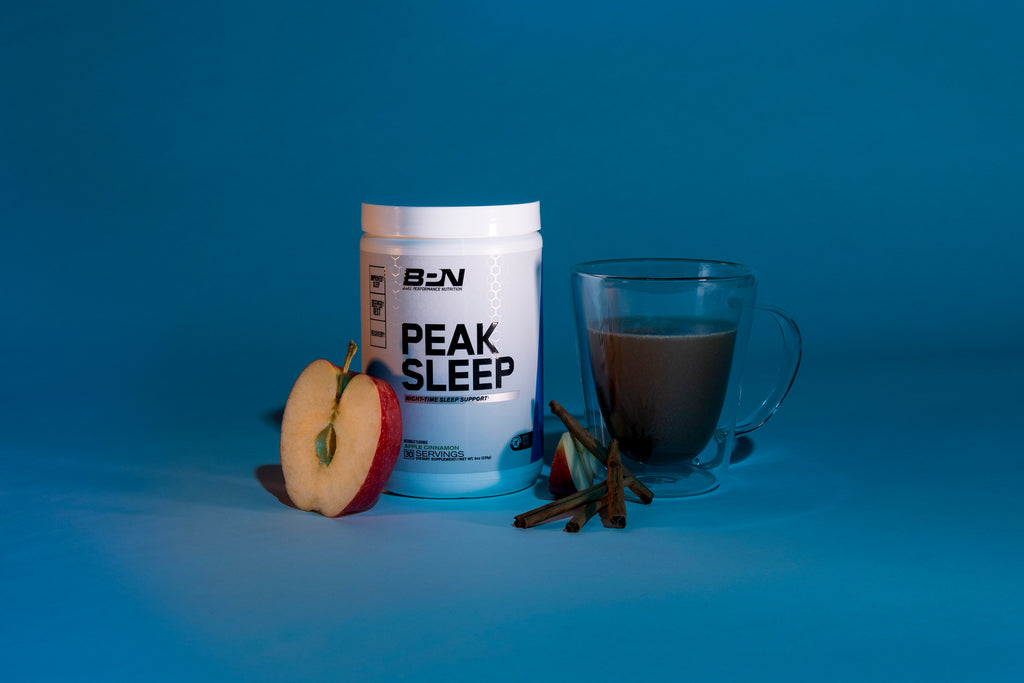 Quality sleep is one of the most powerful natural recovery tools our bodies have — yet it's often the last thing on our minds at the end of a busy day. We strive to perform better and reach our full potential, so we work more, exercise harder, and pack our daily schedules. Not a bad thing, right? It's good to be motivated. But when it comes time to rest, winding down can feel impossible in an always on the go world. It's not always easy to fall asleep and even harder to wake up refreshed. That's why we created Peak Sleep — a calming, non-habit forming supplement that helps you fall into a more restful sleep and optimize your performance for the day ahead. 
Good sleep and great days go hand in hand.
Our goal is to help you get the most consistent restful nights to improve your physical and mental wellness and recovery. In the formulation of Peak Sleep, we challenged how we thought about recovery. From high-performing athletes to those simply trying to stay healthy, we know the better we wind down, the deeper sleep we can get, and the better chance we have to increase our power output, performance, and endurance in the day ahead.
Peak Sleep features a quality blend of ingredients including magnesium, clinically studied mushroom strains, serotonin stimulators, and stress reducers to help relax your body and calm your mind, without the negative habit-forming side effects. After consuming a serving of Peak Sleep, you should experience feelings of relaxation and calmness — you should not feel like you got hit by a train. Only calm, collected and ready to wind down for the evening. 

Ingredients for Better Sleep
Safe, highly effective ingredients are what we stand for in every product. Peak Sleep was formulated with this standard in mind and consists of a carefully selected blend of key ingredients for a more restful night of sleep and recovery. 
Magnesium (

Bisglycinate

Chelate)

 -

Bisglycinate

is a superior form of magnesium with increased absorption and high bioavailability. Shown to help with relaxation, stress reduction, and improved recovery through reduced soreness and fatigue.
PeakO2®

-

A powerful combination of six clinically studied mushroom strains that help overcome both physical and mental stress. As well as improved power output and exercise capacity by increasing our ability to uptake oxygen.

 
Levagen

+®

-

A superior form of PEA (

palmitoylethanolamide

) with increased bioavailability and rapid absorption. Not only does

Levagen

+® activate a calming effect, but it also increases deep sleep and helps you wake up more refreshed. And reduces lactic acid build-up and decreases fatigue.

 
5-HTP

-

5-HTP is easily absorbed by the body and increases the synthesis of serotonin in the central nervous system. Well-balanced serotonin levels have been shown to help with restful sleep, better mood, and regulated appetite.

 

Quality ingredients are essential, but that's only the beginning. Sipping on a delicious, warm cup of Peak Sleep as you wind down your evening is a relaxing and calming experience in itself. Simply add one scoop of Peak Sleep to 8-10oz of hot or cold water about 30-45 minutes before bedtime for your most restful night of sleep. 
*Side effect: you may become a morning person. 
Common Questions
How much does Peak Sleep cost? 
$44.99 for 30 servings 
What flavors is Peak Sleep offered in? 
Apple Cinnamon and Chocolate