25 Hours A Day: Nick Bare's New Book About "GOING ONE MORE"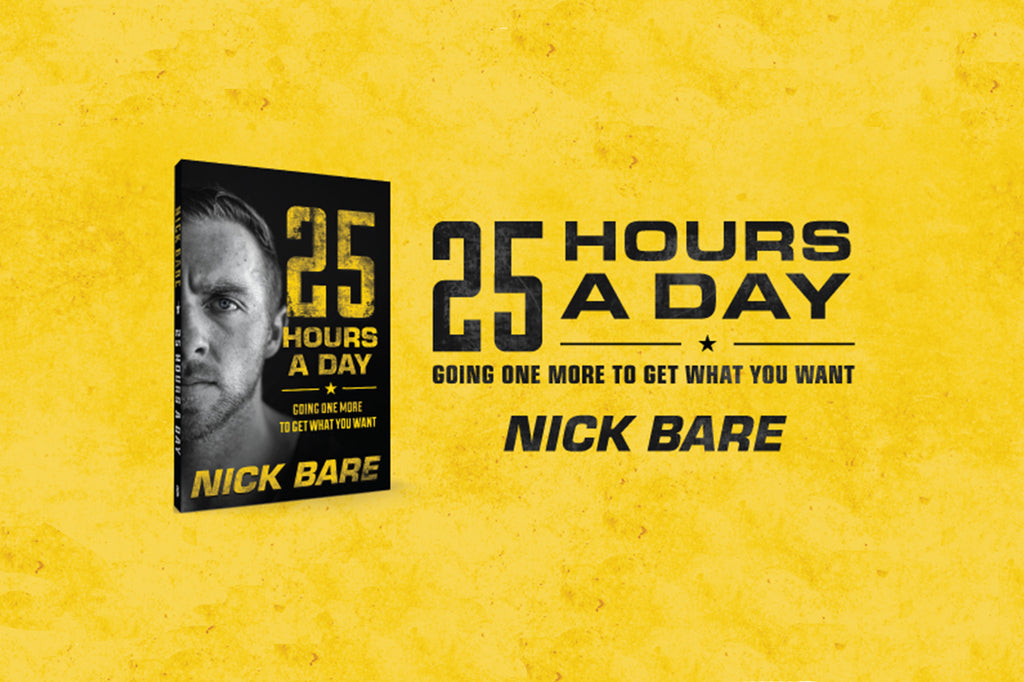 Nick Bare, CEO of Bare Performance Nutrition, is launching his new book titled, 25 Hours A Day on January 28th, 2020 with Lioncrest Publishing. This book has been a work in progress over nearly the last decade of Nick's life from building the brand, to joining the US Army, completing Ranger School and the lessons he learned along the way. 
Nick started Bare Performance Nutrition in 2012 out of his small college apartment at the Indiana University of Pennsylvania while studying nutrition and in the Army ROTC program. Over the next couple years Nick got stationed at Fort Benning, GA, Fort Hood, TX and South Korea for a 9-month rotation. During this time, Nick started social media platforms documenting the journey as an Army Infantry Officer and building a sports nutrition brand online.  
25 Hours A Day is about the struggles of starting a business from scratch, testing yourself both physically and mentally through experiences like the US Army Ranger School, a 150-mile ruck march and training for events such as an IRONMAN triathlon. It is motivational, informative and full of lessons learned from a young entrepreneur building his brand out of a 10 foot by 10 foot apartment. Today Bare Performance Nutrition is a multi-million dollar sports nutrition and health supplement brand located just north of Austin, Texas in a 10,000 sq. ft. warehouse.
People often ask me what it means: that I live a twenty-five-hour day.
It's about maximizing your day, your week, your year, or your entire life to its fullest. For me, it meant building my brand after working a full day for the army, often while others were asleep. It meant delaying vacations, putting aside luxuries, and focusing on winning back each and every day. 
Conventional wisdom tells you to live as if you have fewer house in a day. The say to cram everything in as if you only had twenty-three hours in which to get it done. This never made sense to me. It gave you less actual time, and often results in rushing to failure.
I'll never forget the moment I learned to stop rushing toward failure. I was a student in the Infantry Officer Basic Course at Fort Benning, Georgia, working with some captains from the hard-core 75th Ranger Regiment.
I asked one of them for advice on how to be the best leader possible when I arrived at my platoon at Ford Hood, Texas. He pointed to another captain across the room.
"You see that guy right there? When the shit hits the fan, when chaos strikes, that guy stays as cool as the other side of the pillow. He doesn't rush to failure, but takes the time to assess the situation, develop a plan quickly, and executes it on demand. That is the guy you want to be."
I realized that the goal isn't to rush, but to slow things down as much as possible, even time itself. We all have twenty-four hours in a day, but it's how you choose to live those twenty-four hours that makes the difference. When I started my business, I sacrificed sleep in order to find extra time. Bottom line, I was in control of the day. I controlled my time, and in the end, I controlled what it was I was about to create.