Amanda Lawrence & Russel Orhii Become Champs at Raw Nationals 2019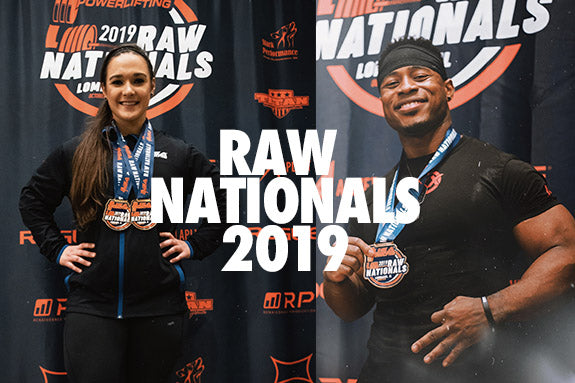 They did it again.
Just a little over four months ago, BPN Athletes Amanda Lawrence and Russel Orhii, became world champions at the 2019 IPF World Classic Powerlifting Championship. Now, they can add "National Champion" to the list, too.
This past week, both Lawrence and Orhii took home first place in their weight classes at the USA Powerlifting Raw Nationals competition in Chicago, Illinois.

On Thursday, Russ took to the platform and dominated his 83kg weight class, where he became the first ever 3-time 83 kg National Champion. Here's how Russ made out at Raw Nationals:
Total - 828kg/1825lbs
Squat - 313.5kg/691lbs
Bench - 192kg/424lbs
Deadlift - 322kg/711lbs
The numbers are unbelievable – and what's even more unbelievable is the fact that Russ called this meet the "worst of his lifting career". Orhii was 6/9 in attempts, but that still didn't stop him from taking 1st place home. 
Orhii says going forward he needs to better execute depth on a more consistent basis.
Even on his worst day, he wins. This just goes to show the work ethic and unmatched determination that Orhii has – even after taking first place, he's always ready to get back to work.
On Saturday, it was time for Amanda Lawrence to step onto the platform. Almost identical to Orhii's outcome, Amanda was disappointed with her performance but still took home 1st place in her 84 kg weight class. It's not very often that you hear a powerlifter becomes a World Champion before becoming a National Champion, but that about sums up her strength and performance all together.
About two and a half weeks prior to Raw Nationals, Lawrence strained her right upper hamstring tendon and wasn't even sure if she'd be able to compete. But in true Lawrence fashion – she showed up.
She was able to tie her best total from IPF worlds with a 613 kg total. Here's how Amanda made out at Raw Nationals.
Total – 613kg/1351 lbs.
Squat – 250.5kg/552 lbs
Bench -  115 kg/253 lbs
Deadlift – 247.5 kg/545 lbs 
Both Amanda & Russ may chalk this meet up as a disappointment, but we are far from disappointed in these insanely strong, determined and always-hungry-for-more athletes and champions. We can't wait to see what they do next!
PHOTO CREDIT: Doohan Betancourt